Curses, Lies, and Alibis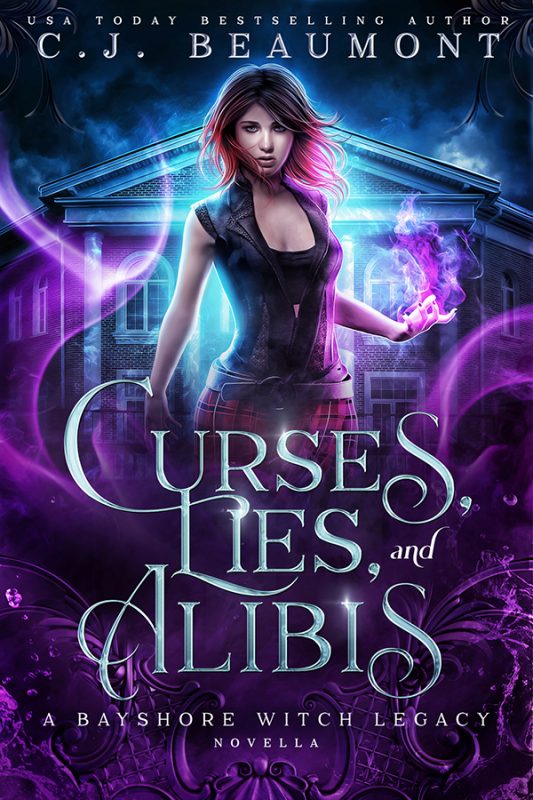 Better to ask the coven's forgiveness than their permission.
Roxy knows she should obey her Coven's rules. After all, the only true magic left in the Earthly Realm hides in the bloodlines of the Bayshore Coven. Long ago, Hecate — goddess of witchcraft — warned their Olympian-blessed ancestors to conceal their true nature at all costs.
But after years of being invisible to her crush — and worse, bullied by his vicious on-again, off-again girlfriend — Roxy can't take it anymore. Now, she's a witch on a mission to change the crap hand the universe dealt her, and she's willing to risk banishment or worse to make it happen.
When she meets a rebellious sorcerer in her dual-enrollment night classes at Bayshore Community College, her worldview is shattered. Kris challenges everything she thought she knew, raising disturbing concerns. If magic exists outside the Bayshore Coven, then the archaic rules imposed by a long-absent goddess must be wrong. Or, perhaps, their rules are tools being used to manipulate young witches into blind compliance.
Emboldened by Kris' influence and willing to take her chances, Roxy performs a spell to make Ray Hammond notice her, even though she knows what she's doing is forbidden. When the spell backfires, she is unprepared for the consequences of unleashing the vast power coursing through her veins.
Still, better to ask forgiveness than permission...right?
If you liked Practical Magic by Alice Hoffman or Cate Tiernan's Sweep series, you'll love this introduction to C. J. Beaumont's up-and-coming young adult slow burn paranormal romantic suspense series, The Bayshore Witch Legacy.
Dive in and start Roxy's heart-pounding saga today.
Order Now!